Update July 2020

Dear pregnant mamas, new mamas and partners,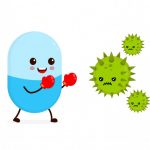 The professional organisations for midwifery, gynaecology and ultrasonography have recently announced further adjustments to the advice for pregnant women, birthing women and new mothers regarding Covid-19.
As we have noticed some confusion regarding the most current advice, we are sending this update to clarify the most important points:
What remains unchanged and extremely important is:
If you have a fever >38.0°C and a cough or flu symptoms, please contact us. We ask you NOT to come to the practice – CALL US so we can discuss the best plan of action. 
Your partner may come with you to all check-ups (only if they are symptom free). However, we ask that you use this advice sensibly. If you are attending a routine check-up, please come alone as much as possible. If you partner comes with you, they can use the chair we have placed in the clinic room at an appropriate distance. Please follow the midwife's guidance in order to adhere to the 1.5m rule.
Please disinfect your hands when you come into the practice and take a seat in the waiting area. You will be called by either the assistant or the midwife.
As there are now more partners coming into the practice, we request that your partner respects the 1.5 metre distance rule from the midwife and assistant at all times.
Children are NOT YET permitted.
Your new baby is permitted to come with you to your post-natal check-up 6 weeks after the birth.
All check-ups will be carried out at the practice. We will NOT call you prior to a check-up. We will also NOT be scheduling any further telephone consultation appointments.
After the birth we will visit you approximately 3 times at home; on the 2nd/3rd day, on the 4th/5th day for the heel prick and on the 8th or 9th day when your kraamzorg has finished her care. 
If you have any questions or anything remains unclear, please call us on: 
T: 015- 291 97 07 Mon-Fri 09.00am to 12.00pm or in case of emergency M: 06- 24 669 280. 
Warm and healthy regards,  
DelVi midwives